Oh, oh, Freya's here to write a very important message to her cat friends. Especially her black cat friends, because it's
Black Cat Appreciation Day
. She knows that her black cat friends are being killed every day at shelters, and most people look over them because they're supposed to be scary and bad luck. Freya knows the truth she knows her black buddies aren't as bad as they look. Freya herself has black fur cat on her, well sort of, it's really black brown, and tan, but Freya doesn't care. Since Freya knows the importance of black cat appreciation, she told me to dictate what she says for her, so it'll be easier to read.
A message from Freya
Dear people,
Did you know my friends the black cats are put to sleep because nobody loves them enough to take them home? I have a home with people who love me, but these can't don't. They don't know what it's like to have someone hold them when they're scared, they don't even know what it's like to give someone a penguin, because they're in their cages. The cages are so teeny. I went in a cage once, and it made me cry. I had to get out.
Black cats only look different, they're not mean, they're not bad, and they're not scary. My human mom and dad both had a black cat before, and they were cool kitties. I've met some when I was living on the streets, they weren't bad at all, just very misunderstood.
Let me tell you about living on the streets, because I don't think many people understand how scary it is. The only water I could get was water from puddles, or water from lakes and ponds. The lake by my house has bad stuff in it from the hospital. When it comes to food, not everyone is nice, and some days I'd go hungry, and others people would feed me. But what was really scary was at night, it got cold, and dark and I'd shake because it was so cold. I'd hide under cars, even though I knew I could get ran over, just so I could feel safe. When human man and human woman adopted me, I was happy, they feed me when I'm hungry, I have a nice warm bed to sleep in, and a human to cuddle with when I'm told. Every cat should have a human who loves them, even the black cats.
(source)
This black cat he's a baby, isn't he cute? She's loved by a family. And I think she has such a pretty blue collar I want one.
(source)
Black kitties can even be prettyful. See! I'd like to have a flower crown like this pretty kitty. This pretty kitty looks so very pretty don't she? She's not mean or scary.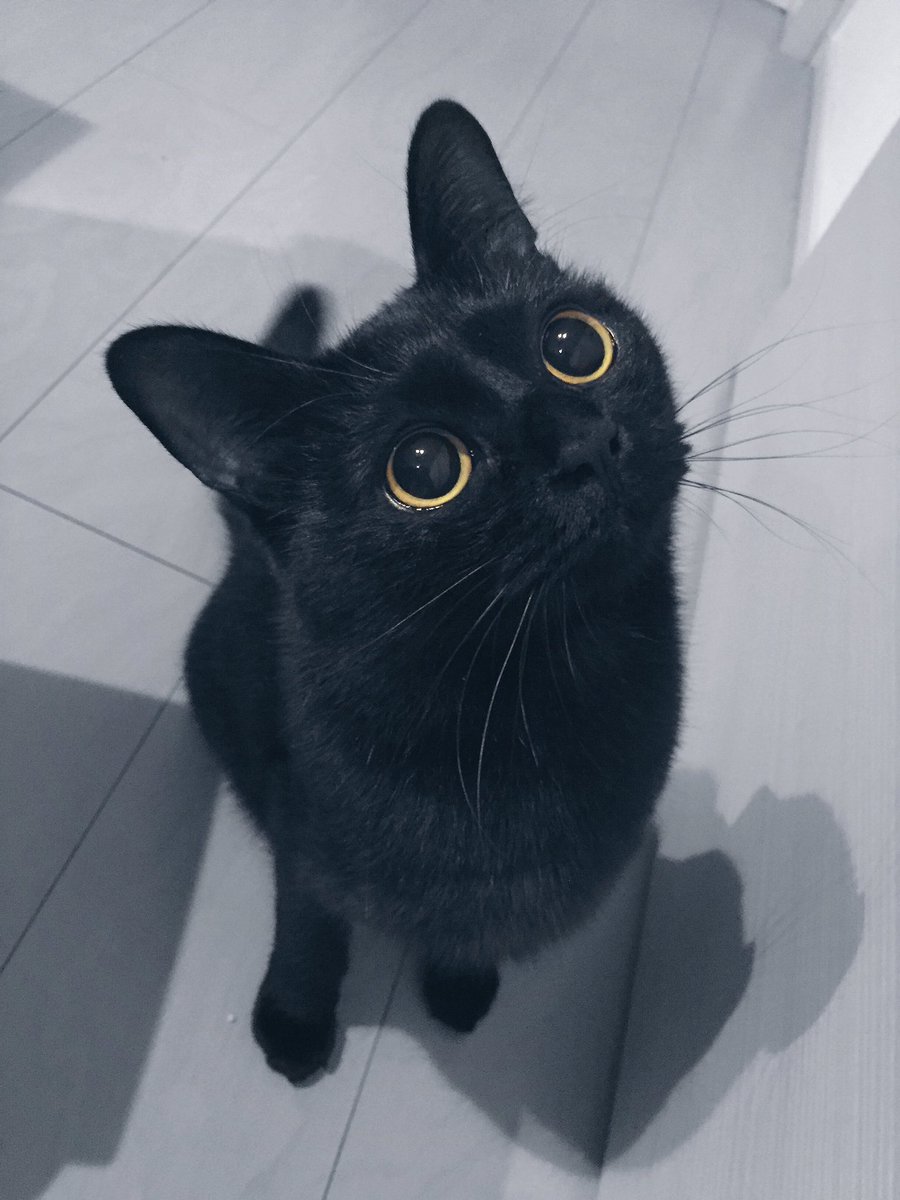 (source)
My human says I have those big kitty eyes too. She calls them kawaii anime girl eyes. She's not just saying that because this kitty is from Japan, she calls them kawaii anime eyes because my eyes are big cute and very expressive.
(source)
Doesn't Mr or Mrs. Kitty look happy in her people's arms? All black kitties need to be happy in the arms of their people.
Those are only some of my feline friends. The other friends are still in shelters, being sad and hungry with no crowns, no hugs, and not even a pretty blue collar. Please can someone save a black cat I'd be really happy.
Sincerely,
Freya-Kitty
cross posted at: Trixie Von Cupake